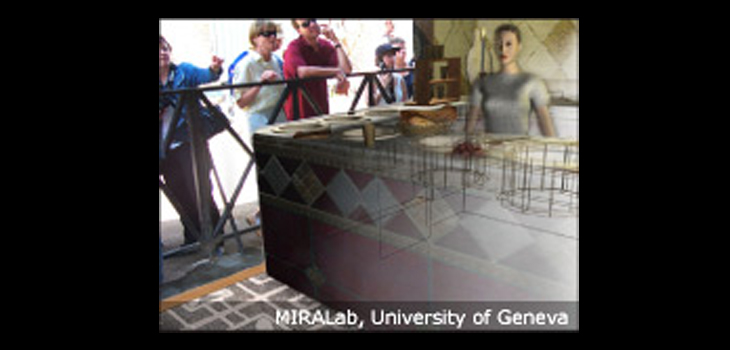 "Project No: IST-2001-34545" Period: April 2002 - August 2004 Type: European Research Status: Completed
Overview
LIFEPLUS proposes an innovative 3D reconstruction of ancient frescos-paintings through the real-time revival of their fauna and flora, featuring groups of virtual animated characters with artificial life dramaturgical behaviours, in an immersive AR environment.
In greater detail LIFEPLUS objectives are:
Real-time realistic virtual life in AR environments.
Automatic Real-time Camera Tracking in unknown environments.
Design of successful character based installations
Expressive autonomous cinematography for interactive Virtual Environments.
Although initially targeted at Cultural Heritage Centres, the paradigm is by no means limited to such subjects, but encompasses all types of future Location-Based Entertainments, E-visitor Attractions as well as on-set visualisations for the TV/movie industry.
The goal of LIFEPLUS is to push the limits of current Augmented Reality (AR) technologies, exploring the processes of narrative design of fictional spaces (e.g. frescos-paintings) where users can experience a high degree of realistic interactive immersion. Based on a captured/real-time video of a real scene, the project is oriented in enhancing these scenes by allowing the possibility to render realistic 3D simulations of virtual flora and fauna (humans, animals and plants) in real-time. According to its key technology, visitors are provided with a see-through Head-Mounted-Display (HMD), earphone and mobile computing equipment. A tracking system determines their location within the site and audio-visual information is presented to them in context with their exploration, superimposed on their current view of the site.
LIFEPLUS will extend that system and provide key new technologies to render lively, real-time animations and simulations of ancient virtual life (3D human groups, animals and plants).
By its very nature, LIFEPLUS is a highly interdisciplinary project involving computer vision, computer graphics, user interfaces, human factors, wearable computing, mobile computing, computer networks, distributed computing, information access and information visualization.
Two case study applications on virtual heritage will be developed and demonstrated. Historical world-class frescos-paintings will be 'brought to life', through lively 3D animated revival of their content, superimposed on their real environment. Thus the ancient characters of the frescoes (including humans, animals and plants) will be revived and simulated in real-time in 3D, exhibiting in a new innovative manner their unique aesthetic, dramaturgical and emotional elements.
MIRALab's contribution
The MIRALab task in LIFEPLUS is to extend their expertise and provide key new AR technologies to render lively, real-time animations and simulations of ancient virtual life in augmented reality, including: a) Hair simulation b) Cloth animation c) Skin rendering and interactive programmable shading d) Multi-resolution scalable graphics for dynamic Levels Of Detail e) Realistic facial emotion expression. MIRALab acts also as the Technical Coordinator of the project.
Partners
Carleton University
Canada
www.carleton.ca
Consiglio Nazionale Delle Ricerche
Italy
www.cnr.it
Ecole Polytechnique Féderale de Lausanne, Virtual Reality Laboratory (VRLab)
Switzerland
vrlab.epfl.ch
Fraunhofer Institut Angewandte Informationstechnik (FhG-FIT)
Germany
www.fit.fraunhofer.de/
Groupe des Ecoles des Telecommunication
France
www.get-telecom.fr
Industrial Systems Institute / Integrated Research Information Society (ISI)
Greece
Information and Communications University
Korea
Interdisciplinair instituut voor BreedBandTechnologie VZW (IBBT-MMLab)
Belgium
Intracom S.A. Telecom Solutions
Greece
www.intracom.gr
Kuratorium OFFIS e.V.
Germany
Lancaster University
U.K.
www.lancs.ac.uk/index.htm
MIRALab, University of Geneva
Switzerland
www.miralab.ch
Rheinisch Westfalische Technische Hochschule Aachen
Germany
www.rwth-aachen.de
Telefónica Investigación y Desarrollo Sociedad Anónima Unipersonal
Spain
www.telefonica.es/
Università di Genova – Dipartimento di Informatica Sistemistica e Telematica
Italy
www.dist.unige.it
Universität Klagenfurt
Austria
www.uni-klu.ac.at