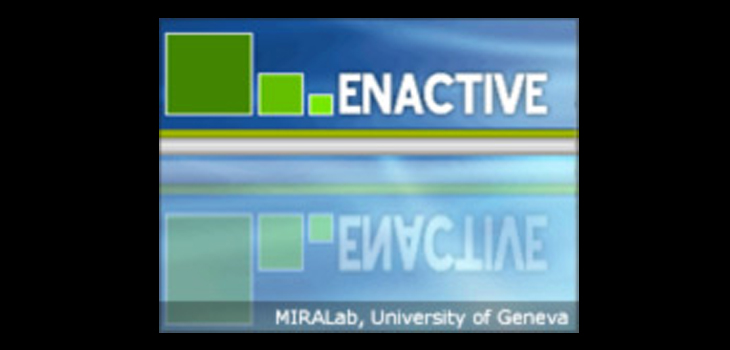 Period: January 2004 - December 2007 Type: European Research Status: Completed
Overview
Objective of this Network of Excellence is to connect European researchers for the development, spreading and standardization of innovative interfaces and interaction paradigms that could substitute and integrate interaction with information mediated by symbolic/iconic systems (language/images) with media based on Enactive Knowledge. Enactive knowledge is not simply a multi-sensory mediated one, but knowledge stored in the form of motor responses and acquired by the act of "doing". It is a form of cognition inherently tied to actions, as in the handcrafter's way of knowing; it is an intuitive non-symbolic form of learning. Europe currently has the multidisciplinary expertise that is needed to the study and development of enactive interfaces but this knowledge is still dispersed in multiple independent laboratories. Nonetheless these innovative interfaces present a wide potential of application in all the fields related to the Human-Computer Interaction and could permit to overcome limitation of current symbolic based information and interaction systems introducing a new interaction paradigm shift.
MIRALab's contribution
The work MIRALab propose will see the collaboration of philosophers, for what regards the conceptual definition of the problem of believability of virtual environments, or objectivity without existence; of psychologists interested in the relationship of action and perception; of computer scientists with expertise in virtual worlds design and evaluation relatively to the users.
Partners
Biomedical Physics Group, School of Physics, University of Exeter
Great Britain
newton.ex.ac.uk/medphy
Centre for Research in Sport Sciences, University of Paris sud XI
France
www.cress.u-psud.fr
Department of Psychology, Uppsala University
Sweden
www.uu.se
Département Technologie et Sciences de l'Homme, Université de technologie de Compiegne
France
www.utc.fr/costech/v2
Division of Rehabilitation Engineering Research, University of Lund
Sweden
www.english.certec.lth.se
Ecole Polytechnique Féderale de Lausanne, Virtual Reality Laboratory country: (VRLab)
Switzerland
vrlab.epfl.ch
EDM Expertise centre for digital media, Limburgs Universitair Centrum–LUC
Belgium
www.edm.luc.ac.be
Faculty of Music, McGill University
Canada
www.mcgill.ca/music
France Telecom R & D
France
www.rd.francetelecom.fr
Human Factors Research Laboratory, University of Minnesota
USA
education.umn.edu/kls/research/hfrl
Human-Technology Interaction Group, Eindhoven University of Technology
Netherlands
www.tm.tue.nl/index_e.htm
ICA
France
www.inpg.fr
InfoMus Lab at DIST – University of Genova
Italy
Institut Jean Nicod
France
www.institutnicod.org
Institute of Robotics and Mechatronics
Germany
www.robotic.dlr.de
LABEIN
Spain
www.labein.es
Max Planck Institute for biological cybernetics
Germany
www.kyb.tuebingen.mpg.de
MIRALab, University of Geneva
Switzerland
www.miralab.ch
Palpable Machines Group, MEDIA LAB Europe
Ireland
www.mle.ie/research/palpable
PERCRO, Research institute on virtual reality
Italy
www.sssup.it
Research Centre, Centro de Estudios e Investigaciones Técnicas de Gipuzkoa
Spain
www.ceit.es
SONY Computer Science Laboratory
France
www.csl.sony.fr
Sony international Europe GmbH – advanced technology centre, MMI lab
Germany
www.sony.de
Universita di Padova
Italy
www.unipd.it
Università di Genova – Dipartimento di Informatica Sistemistica e Telematica
Italy
www.dist.unige.it