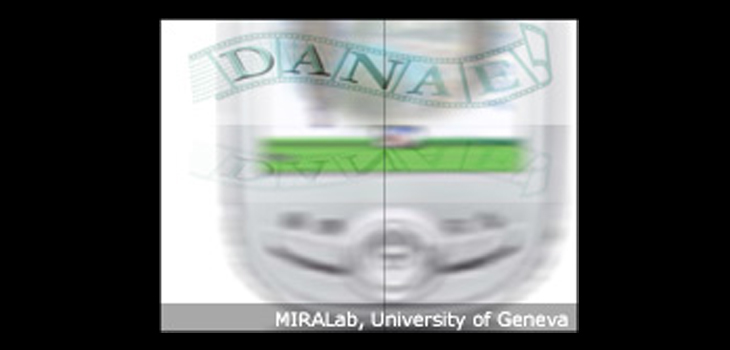 Period: January 2004 - July 2006 Type: European Research Status: Completed
Overview
DANAE proposes to address the dynamic and distributed adaptation of scalable multimedia content in a context-aware environment. Its objectives are to specify, develop, integrate and validate in a testbed a complete framework able to provide end-to-end quality of (multimedia) service at a minimal cost to the end-user. An application will be specifically developed and implemented on a demonstrator, to illustrate the new service concepts pioneered by the Project. The work will cover: (i) the definition of scalable media formats with their associated meta-data, (ii) their adaptation to the session context for making full featured distributed multimedia scene adaptation through global optimization of audio, video, 2D graphics, 2D/3D virtual characters and (iii) the transport and delivery of multimedia content to the end-user. Error resilient and efficient (in terms of bitrate and required processing power in the player) coding schemes will be studied to cater for the specific constraints introduced by the existing multiplicity of networks and terminals. The interrelationship of content adaptation and scalability with Digital Rights Management (DRM) and charging issues will also be explored. As an outcome, an advanced MPEG-21 chain will be produced. Finally potential new business models will be analyzed that would allow assessment of the commercial viability of the new services pioneered by DANAE.
MIRALab's contribution
MIRALAb will contribute to DANAE with the specification and implementation of scalable graphics codecs, as well as content consumption tools (3D/2D players on different platforms). Other activities are algorithms and tools for the transformation of a 3D face model to a 2D model, the animation of generated 2D face model with FAP, the automatic mesh scaling and placement for deformation tables of facial animation, phoneme/viseme driven facial representation/animation, scalable methods for procedural textures and multimodal speech methodologies (parametric, concatenative).
Partners
France Telecom R & D
France
www.rd.francetelecom.fr
Groupe des Ecoles des Telecommunication
France
www.get-telecom.fr
IMEC
Belgium
www.imec.be
Imperial College
Great Britain
www.ic.ac.uk
INRIA
France
www.inria.fr
MIRALab, University of Geneva
Switzerland
www.miralab.ch
MUSEON
Netherlands
www.museon.nl
Rheinisch Westfalische Technische Hochschule Aachen
Germany
www.rwth-aachen.de
Siemens
Germany
www.siemens.com
T-Systems Nova
Germany
www.t-systems.com
Universität Klagenfurt
Austria
www.uni-klu.ac.at